Worldwide Support To Name Plane After Macey Moo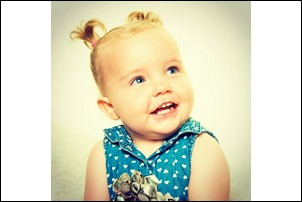 Macey Moo
A woman from Shaw who lost her 17 month old god daughter to Sudden Infant Death Syndrome says she's amazed at how many people have voted to Name A Plane after her 'beautiful' god daughter.
Leanne Ingham contacted Revolution News on Wednesday 4th November.
Only 24 hours earlier, Leanne had started a page to 'Name Our Plane' after her Goddaughter and was astounded that 10,000 votes had been cast from all around the world. Since then the votes have gone up to around 30,000.
'I'm overwhelmed, some of the comments are so amazing and they've come from people all over the world. When I read them they actually make me cry. They really are beautiful comments for a beautiful little girl.'
'We started it small scale on face book to get people to share it and like it etc and then it just escalated from there. She's gone global. She's been shared and voted for in Turkey, Ireland, Australia, America, France, Germany, Ireland. The support is amazing.'
http://nameourplane.com/name/macey-moo-x
More from Revolution News & Sport