Whit Friday In Tameside & Oldham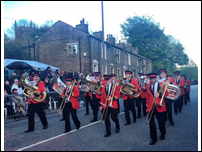 Thousands of people are expected to descend on Oldham and Tameside for the Whit Friday band contests which dates back to 1884. Here's what you need to know.
Thousands of people are set to enjoy a spectacular day of free entertainment and fun at the famous Whit Friday band contests.
Oldham Council is providing help and financial support to ensure the 2016 Saddleworth and Lees contests hit all the right notes once again.
Dubbed 'the greatest free show on earth', this traditional event dates back to 1884.
Contests will run across 11 villages from around 4pm until 10.30pm on Friday, May 20 – following on from the traditional 'Whit Walks' in the morning.
Several months of planning between partners have taken place to ensure residents and visitors can enjoy the day in safety.
Councillor Jean Stretton, Leader of Oldham Council, said: "The Whit Friday Band contests are one of the biggest events on our calendar and have helped put us on the musical map
"We're delighted to be welcoming bands and visitors from across the country and further to this great free show.
"It is vital we all support major events like this because they contribute to our tourism and events industry, which is worth more than £240m and supports 3,000 jobs in Oldham.
"Thanks to the huge efforts made by the organisers and volunteers the event has been a success year after year. We've been working for months with the organisers and partners, such as Greater Manchester Police, to ensure that we have all the right traffic diversions, stewarding and policing arrangements in place to make the event a success.
"We'd encourage everyone to act responsibly and have a great day."
Once the music has stopped there's also a huge clean-up operation to carry out where, working alongside an army of volunteers, council staff clear away litter and empty street bins so that things can return to normal as quickly as possible.
The Saddleworth and Lees District Executive has been closely involved in organising the event and its' members have again given a significant financial contribution from their devolved funding from Oldham Council towards the costs of prizes, stewarding and other vital amenities.
Some road restrictions are in force in the area from 4pm until midnight on May 13. These have been signposted in advance. Event stewards or police are also on hand at venues if motorists need help.
GMP officers will be in attendance across the various contests. They advise all parents to keep in touch with children throughout the day so that you know where they are, who they are with and when you can expect them to return home.
Any young person suspected to be in possession of alcohol may be searched.
For more background information on the band contests visit: http://www.whitfriday.brassbands.saddleworth.org/intro.html
IN TAMESIDE
As usual there will be 11 events across the borough - all organised by volunteer committees under the leadership of the Tameside Friends of Whit Friday. Almost 100 bands are expected to compete.
Bands have to perform in at least six of the contests if they want to stand a chance of being overall champions. As well as demanding proof of musical prowess, the evening tests discipline, stamina and organisational skills.
The 11 competitions, all of which are organised by Tameside Council in partnership with the Friends of Tameside Whit Friday Brass Band Contest, are:
Audenshaw: Aldwinians Rugby Club, Droylsden Road, Audenshaw, M34 5SN – 4 to 10.30pm.
Broadoak: Broadoak Hotel, Broadoak Road, Ashton-under-Lyne, OL6 8QD – 5 to 11pm.
Carrbrook: Carr Rise, Carrbrook, Stalybridge, SK15 3NY – 4.30 to 10.30pm.
Denton: Denton Cricket Club, Egerton Street, Denton, M34 3PB – 4.15 to 11.15pm.
Droylsden: Bush Inn, Moorside Street, Droylsden, M43 7HL – 4.30 to 11pm.
Dukinfield: Tame Valley Hotel, Park Road, Dukinfield, SK16 5LX – 4.30 to 11pm.
Heyrod: John Street, Heyrod, Stalybridge, SK15 3BW – 4.30 to 10.30pm.
Hurst Village: Ashton United AFC, Surrey Street, Hurst Cross, Ashton-under-Lyne, OL6 8DY – 4.30 to 10.15pm.
Stalybridge: Stalybridge Labour Club, Acres Lane, Stalybridge, SK15 2JR – 4.30 to 10.30pm.
Stalybridge Celtic: Stalybridge Celtic AFC, Bower Fold, Mottram Road, Stalybridge, SK15 2RT – 4.30 to 11pm.
Upper Mossley: Mountain Street, Mossley, OL5 0ES – 4.30 to 10pm.
More from Revolution News & Sport