Tributes To Northern Comic Genius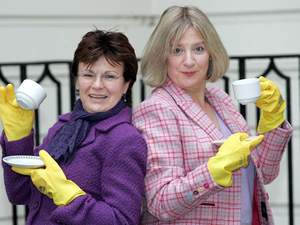 Victoria Wood spent her teenage years performing in plays in Rochdale and attended Bury Grammar School. Jo Anderson, head teacher at Bury Grammar says she was 'inspirational'.
Comedian and actress Victoria Wood has died from cancer at the age of 62.
She passed away at her home in London surrounded by family, her publicist said.
In a statement her older brother Chris said her death "has robbed us of one of the brightest talents of our generation".
"It wasn't just that Victoria was hugely talented in so many different fields, she was also outstanding in her tremendous, single-minded drive and determination to pursue her chosen career," he said.
Her long-time friend and comedy partner Julie Walters said she was "too heart sore to comment."
"The loss of her is incalculable," she said.
Tributes are continuing to pour in for the Northern comedian and actress.
The Prime Minister's called her a 'National Treasure.' She spent her teenage years acting in plays in Rochdale.
Jo Anderson is head teacher at Victoria's old school, Bury Grammar.
'An ordinary Northern girl like Victoria to come to our school and learn to play and then use her talent musical and dramatic, then to go on and use her talent to become so famous is such an inspiration to our pupils.'
More from Revolution News & Sport