79 Yr Old Woman Carjacked Then Run Over In Royton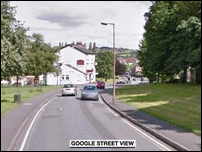 The pensioner is now in hospital with serious injuries. Oldham Police say this is the worst incident they've seen for a while.
A 79-year-old woman has been run over by a thief as he drove off in her car.
The victim suffered serious injuries during the carjacking when the man drove over her as she lay in the vehicle's path at a car park.
The woman had got out of her white Hyundai i10 after being approached by the man in Oldham, Greater Manchester, shortly before 2pm on Wednesday.
The man told her there was a problem with her car, and as she checked to see what was wrong, the man jumped in.
He then reversed the vehicle, knocking the woman over, before driving over her at the car park off Sandy Lane in Royton.
Police say they are trying to trace the man behind the "horrible crime", which has left the victim in hospital.
The car was later recovered in Buersil Avenue, near the Turf Hill area of Rochdale.
The man is described as white, in his mid-40s and stocky. He was wearing a light long-sleeved top and dark trousers.
Detective Inspector Ian Harratt, from Greater Manchester Police's Oldham division, said it was "one of the worst incidents" he has had to investigate.
He said: "How someone can do this to anyone, never mind a 79-year-old lady, I will never know."
:: Anyone with information should call police on 0161 856 8906 or the independent charity Crimestoppers anonymously on 0800 555 111.
More from Revolution News & Sport