Rochdale New Approach To Child Sexual Exploitation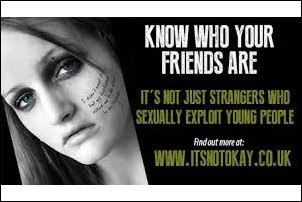 In reaction to the gang who were convicted of exploitation and grooming, children's services at Rochdale Council will now look at a new approach to help victims of exploitation.
Young people affected by child sexual exploitation (CSE) will be supported to stay at home with their family - where appropriate - as part of a new approach being piloted by Wigan and Rochdale councils in partnership with the Children's Society, Research In Practice, the University of Greenwich and NatCen.
Under Project Phoenix, Greater Manchester's multi-agency approach to tackling CSE, the partnership will help more vulnerable young people and their parents to receive the help they need, rather than the young people being taken into care and living many miles away from their home, friends and family in order to protect them from those who exploit them.
Rochdale and Wigan councils were awarded a central government grant of almost £1million – coined the Innovation Fund - last year to develop a new approach to protecting those at risk of CSE.
With the research phase of the project now completed, the findings are being used to influence the delivery model for a new approach. The pilot team, which began operating in January, will work closely with young people and their families, staff and professionals to develop and design the new ways of working with young people and their families where CSE is an issue.
The team is being led by Nick Marsh, an experienced social worker and manager who is familiar with 'complex' safeguarding issues, such as CSE and human trafficking, having worked with Greater Manchester Police to support their approach to organised crime and human trafficking.
Gail Hopper, director of children's services at Rochdale Borough Council, said: "The aim of this pilot is to find a more effective way to work with some of the most vulnerable children in society. This means researching, designing and testing a model that can deliver new ways of engaging with young people, inform culture change within organisations and trial new practices that can then be scaled across the region."
Councillor Joanne Platt, cabinet member for children and young people at Wigan Council, said: "Over 100 young people at high risk of CSE in Greater Manchester are placed in residential care homes or secure care every year. While this can be necessary to ensure they are not exposed to any further risk of abuse, this new approach will explore new ways of working with children and teenagers to prevent them from suffering such significant and sometimes damaging disruption while keeping them safe from harm."
Rob Jackson, Greater Manchester area director for The Children's Society, said: "We want to see investment in tackling child sexual exploitation, but we want that investment to be directed into interventions which ensure all young people at risk receive the best possible support depending upon their individual circumstances.
"While we understand that the immediate protection of children is absolutely vital in the short-term, in as many cases as possible, parents and foster carers can and should be part of the solution and a key part of this project is learning from the experiences of young people and their families."
More from Revolution News & Sport