Oldham Couple Devastated After Rare Pups Stolen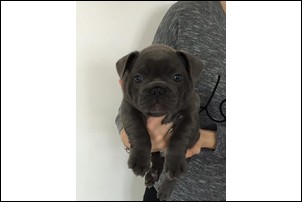 Rob and Victoria Hollingworth say they feel like their babies have been taken as thieves smashed through their house leaving everything but the five French Bulldog puppies.
Rob Hollingworth says when he saw the door of his house had been forced open and the puppies were gone, him and his partner Victoria were inconsolable. The puppies were taken on Saturday 5th March while the couple were out in the evening.
The French Bulldogs are incredibly rare and worth £4000 each. But more important to the couple is the safety of these pups who still need their mum as they're only seven weeks old.
Speaking to Revolution News Rob Hollingworth from Royton says he thinks they were targeted after they had been advertising the pups for sale on line.
'They are our children. We're not lucky enough to have children yet and these have been like to us. A few weeks before the puppies are born, we sleep next to the Mum, we've been with those puppies since they were one minute old.'
'There's been people contacting us from all over the world and country. Setting up appeals, setting up groups and sharing- we've had people sharing in Dubai, Australia, Essex, Scotland, Kent.'
'Were looking at about a quarter of a million people who have seen the campaign now and were just wanting someone to pick up the phone and do the right thing and keep them safe. Don't put the pups in danger any longer'.
http://www.doglost.co.uk/dog-profile/?dogId=99131
https://www.facebook.com/groups/586426444859371/?pnref=story
More from Revolution News & Sport