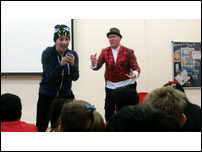 In light of the sentencing of a high profile sex grooming gang in Rochdale, pupils are being taught to recognise the signs of sexual exploitation and grooming.
Year six pupils throughout the Rochdale borough will now be able to see a unique play by GW Theatre Company to help them learn to recognise the difference between positive and inappropriate relationships with peers and adults.
The production, titled 'Mister Shapeshifter', takes the form of a contemporary fairy story during which 10-11 year olds learn how to recognise the warning signs of an unhealthy relationship both online and in real life, and what to do if they don't feel safe.
Dave Jones, creative director at GW Theatre Company, said: "It's important to address these issues in an age-appropriate way for children who are just about to move into secondary school and possibly get their first phone, where they will be accessing the internet and social media.
"We developed and researched this play with both professionals and children. Audience participation is a key part of the show, which really helps them engage with us about what constitutes a healthy or unhealthy relationship, and what to do as a result."
Mister Shapeshifter is a super villain able to change his appearance at will, whose aim is to live forever by draining children's childhood. 11 year olds Jack and Jess must save themselves and bring Mister Shapeshifter to justice, with the help of the audience, their teacher and the police.
Pupils at Belfield primary school in Rochdale were some of the first in the borough to see the live performance.
Headteacher Margaret Farrell said: "I thought it was fantastic - really thought-provoking. It's important not to scare children but to make them aware of both the dangers and the people who can help.
"GW Theatre provided lesson materials to prepare pupils by introducing the theme of healthy relationships before watching the play. It meant that our pupils were able to ask some really intelligent questions during and after the performance."
Funded by six local authorities from around the UK including Rochdale and Oldham, Mister Shapeshifter will be performed 37 times throughout the borough until the end of May, with the aim of giving every year six pupil the chance to see it.
Gail Hopper, director of children's services, said: "Mister Shapeshifter helps to give a younger audience the knowledge of how people should behave both in real life and online, but does it in a way that is appropriate and effective for their age. Importantly from the children's point of view – it is a fantastic production and a riveting story.
"GW's experience in dealing with sensitive issues meant we were confident in their ability to help younger pupils understand the importance of healthy relationships, which includes recognising possible signs of abuse or exploitation, while keeping the content suitable for the audience
"Their previous play, 'Somebody's Sister, Somebody's Daughter', which was aimed at teenagers aged 14+ and their parents was a tremendous success and addressed the themes of exploitation and abuse in a different, more direct fashion."