Cromwell School Gets Temporary Re-location After Arson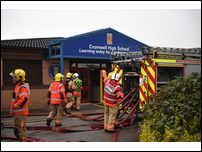 The Dukinfield site has been so severely damaged that fire experts say it won't re-open till September term. Pupils and staff will be re-located temporarily at Inspire Academy in Ashton.
A NEW temporary base has been confirmed for Cromwell High School pupils and staff following the devastating fire last Friday (15 April).
Work is already underway to move resources and specialist equipment to available classroom space at Inspire Academy, Mossley Road, Ashton. Pupils are due to start at the site in a phased, staggered approach from next Monday (25 April) with a plan that all students are based there by Wednesday 27 April.
In the meantime, a one-to-one care package has been put in place for all the Cromwell pupils. Currently, 34 young people are attending Active Tameside in Medlock, engaged in a wide range of activities. Around 14 staff from Cromwell are supporting them. This provision will continue until they are able to go to their new temporary accommodation.
Hydrotherapy sessions will begin at Samuel Laycock Special School (20 April) for those students for whom it would be appropriate.
Where young people from Cromwell currently have access to free transport, they will maintain this service to their new location.
Cromwell High is liaising with all parents about the new arrangement while parents of Inspire Academy pupils have also been informed.
More from Revolution News & Sport