Regal Moon Pub Rochdale Opens After Boxing Day Floods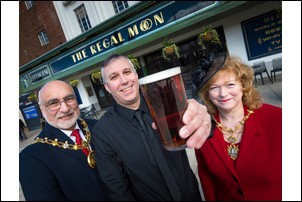 There is one week left for businesses to apply for a flood recovery grant to help with costs from the Boxing Day downpours. All applications due in by Thursday 31 March 2016. Business which could benefit from flood resilience measures to help reduce the impact of future floods have until 30 June 2016 to apply for this grant.
One of Rochdale's most well-known businesses opens today Friday 25th March, nearly three months to the day after it was severely damaged in the Boxing Day floods.
Images of the Regal Moon pub surrounded by water came to define the floods and the devastating impact they had across Greater Manchester.
But now the 1930s art deco building is back and even better, following a £760,000 makeover and the recruitment of ten new members of staff.
The pub now has a new carpet, a new bar, kitchen and toilets, rewiring and a fresh lick of paint.
And the Mayor and Mayoress of Rochdale, Councillors Surinder and Cecile Biant, and Council Leader, Councillor Richard Farnell, were on hand to join the celebration.
Councillor Farnell said: "160 businesses were affected by the floods and it's been a long road to recovery. But Rochdale is known for its pioneering spirit and I'm proud of the way the community came together with the council to put the borough back on its feet.
"The Regal Moon is a well-loved business, whose popularity stretches far beyond Rochdale town centre, so to see it reopen, revamped and with new staff on board, feels like an important milestone.
"Other popular town centre businesses, like La Mancha and CockaDoodleMoo also reopened recently, and we're looking forward to Java and My Local opening their doors again in April."
Landlord Chris Riley, said: "Boxing Day was a very surreal experience. We had to evacuate customers during the morning, as all the power went out, and the staff just had to lock up and leave not long after because the water had got so high.
"The next day, I expected everything to look horrendous, but the council had been in with road sweepers and cleared all the debris outside, so it was nothing like as bad as it could have been.
"Opening the pub again feels like coming home. We have 65 staff here and we're like a family. You tend to get recognised all over when you work in the Regal Moon and there's been a huge interest in the reopening. As some of our staff were promoted when they were redeployed to other Wetherspoon's pubs, we've also been able to recruit ten new staff. The pub will look similar to before, but has had a much-needed upgrade."
Mark Foxley from Rochdale Town Centre Management, said "We're delighted to see the Regal Moon open again, they're a great team and we are proud to have supported them during this difficult period. The pub is an important part of the town centre community, which brings visitors to the town centre that neighbouring businesses benefit from."
The council gave 114 businesses in Rochdale, Littleborough and Heywood a £500 grant and three months business rates relief following the floods. A further 25 applications for flood recovery grants averaging £2,500 per business have also been approved. Grants of up to £5,000 are also available for affected businesses and property owners to fund flood resilience measures for internal fittings and improvements to buildings including air-brick covers and flood barriers.
Businesses only have a few more days to apply for the flood recovery grants to help their business recover, with all applications due in by Thursday 31 March 2016.
Business which could benefit from flood resilience measures to help reduce the impact of future floods have until 30 June 2016 to apply for this grant.
For information on financial support for flood affected businesses, contact [email protected] or call 01706 926622.
More from Revolution News & Sport