£20 Million Flood Defence Plans In Rochdale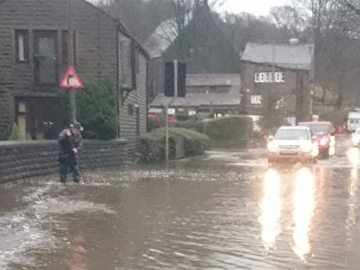 The Environment Agency and Rochdale Council are finalising plans which could see up to £20 million invested in Rochdale.
The council is working with the Environment Agency to secure funding for a multi-million flood defence scheme that will help protect areas at risk of further flooding.
Since 2012 Rochdale Borough Council has secured more than £1m of new investment for flood risk management projects. The council is working closely with the Environment Agency to finalise plans for a scheme that will provide improved flood alleviation for the River Roch between Littleborough and Rochdale town centre.
The scheme, which could be worth up to £20 million, will be one of the largest inland projects in the North West of England and reduce flood risk for more than 1,000 homes and businesses. Work is being done to finalise the proposals and to secure the funding with the first phase of work expected to start later next year.
Councillor Richard Farnell, the leader of Rochdale Borough Council, said: "I am pressing the Environment Agency and council for this work to completed as soon as possible. The Calder Brook and Revealing the Roch flood alleviation projects are already protecting many areas but we know that more work needs to be done. We saw first-hand on Boxing Day how the revealing the river scheme in Rochdale town centre helped to reduce the spread of flood water and the scale of potential damage."
The Environment Agency is currently delivering a £370,000 annual maintenance programme to clear culverts and other work to manage flood risk from the borough's rivers. A damaged wall near Riverside Nursing Home in Littleborough is being repaired at a cost of about £150,000.
The first phase of the Calder Brook flood alleviation project (a flood basin at Townhouse Road) was completed last year and a second basin will be completed later this year to protect more properties including homes in the Calder Avenue and Whalley Avenue area.
Other, smaller schemes for the River Roch, Townhouse Brook, Green Vale Brook and the River Spodden areas (including The Esplanade, central Rochdale and Littleborough) are due to be delivered this year.
Coun Farnell added: "The flooding that affected so many homes and businesses in December was unprecedented but we cannot think that it will not happen again. We must do all that we possibly can to protect our communities from further suffering and this new multi-million scheme will help us do that."
The council is also working with United Utilities to help ensure that sewer and drainage systems are better managed and as part of the Boxing Day flood recovery programme has set up a scheme that provides grants of up to £5,000 for flood resilience measures in homes and businesses that suffered internal damage during the Boxing Day floods.
Contact is being made with all known owner occupiers and landlords of flood-affected properties that we believe may be eligible and we have held 'drop-in' sessions in the areas that were hardest hit. Almost 50 expressions of interest have been submitted so far and this figure is expected to increase significantly over the next few weeks. Applications can be made until 30 June and approved schemes will be completed by autumn where possible.
The council is continuing to work with the National Flood Forum and we have a local flood resilience officer working with us to advise and work with residents and businesses to help increase their flood resilience.
More information is available at www.rochdale.gov.uk/flooding
More from Revolution News & Sport